Ships can Talk
InfoSHIP PERFORMANCE gives voice to fleet data
Boost your strategic ship management decisions!
InfoSHIP® PERFORMANCE is a whole new way of collecting, extracting and processing data from any system installed onboard a ship, along with data from day-to-day operations.
Designed to be an ally for ship managers and operators, the software can be stand-alone or work in a multiconnected environment such as a Fleet operation remote control Centre. Powered by InfoSHIP, InfoSHIP PERFORMANCE can be interfaced and linked to the other suite modules (Asset, Procurement, Electronic LogBooks, Planning, Quality) and can monitor your fleet's performance, reducing costs and boosting your competitiveness to full speed ahead!
The Workflow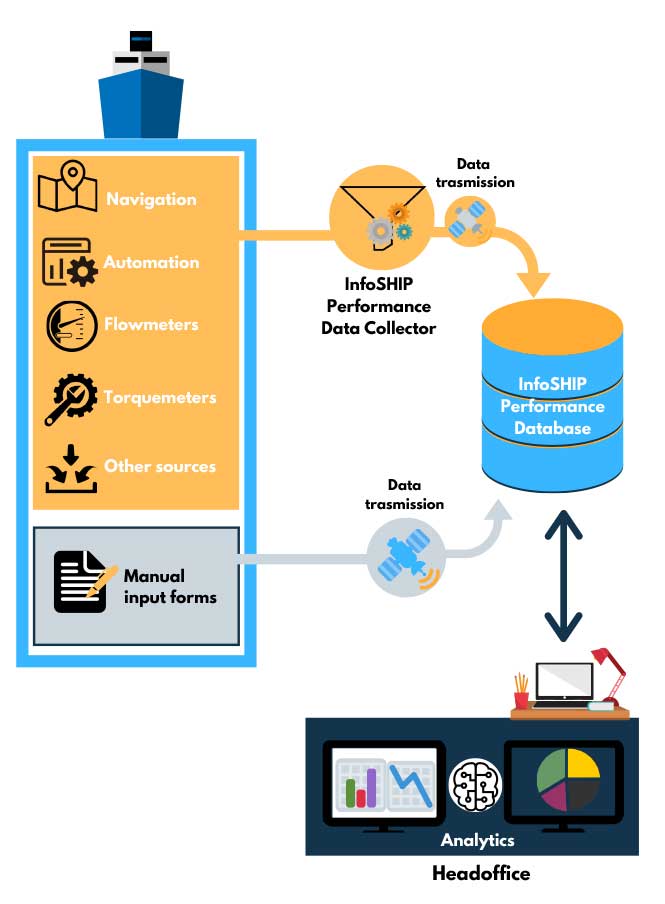 How does it work?
The more data InfoSHIP PERFORMANCE can collect in real-time, the more it can help improve ship management processes.
InfoSHIP PERFORMANCE automatically acquires and stores measurements from a variety of fleet systems in real-time and is highly customizable to suit any ship environment, enabling the user to redefine parameters and the way data is validated at any time, rendering it exceptionally user-friendly.
The large number of variables managed by InfoSHIP PERFORMANCE gives a better reading of events which translates to improved predictions regarding critical risks, preventing negative outcomes by taking corrective measures. This then helps guide future behaviors as well.
IT Structure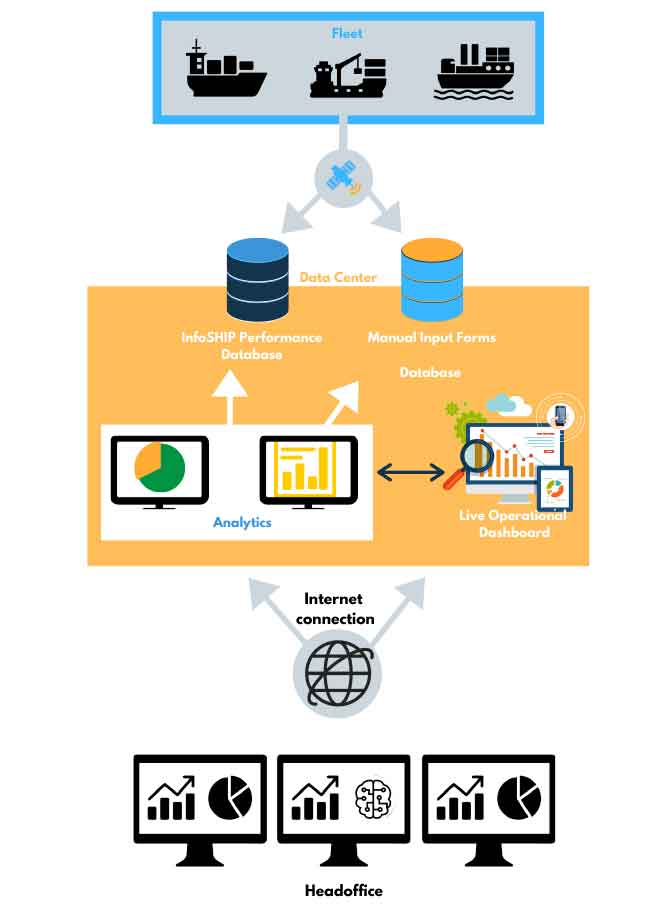 Get some insight
Fleet Map
Watch the video and explore:
real time ship position and main data
the forecasted route with weather layers
past routes using different maps (Simple/Satellite/Navionics)
Operational Dashboard
Discover how you can:
analyze the many aspects of a ship's performance
compare periods of time or ships
set targets to upload on board
simulate fuel consumptions
Analytics Creation
See how officers can:
collect measurements manually and through automation systems
get suggestions for improving ship's efficiency
share data with the Office Installation for real time troubleshooting and overview.
Why InfoSHIP® PERFORMANCE is different
All-in -one solution
InfoSHIP PERFORMANCE is not a stand-alone tool tailored to a single need, but a suite with a holistic vision that takes into account Energy Management, Operations Monitoring, Environmental Aspects and Regulations Compliance all together.
---
Heterogeneous Fleet Management
InfoSHIP PERFORMANCE manages fleets that are heterogeneous in terms of the age of the ships and their digital equipment: information coming from manual inputs on older ships or ones without sensors flows into the same database and information automatically acquired on modern ships, enabling comparative analysis. This makes InfoSHIP PERFORMANCE a reliable software not just for new ships, but also for ships that have been in service for a while.
Onboard Operational Dashboards
The crew has full visibility of the tool thanks to the onboard Operational Dashboards, which show information gathered from different sources in the same environment. It also suggests real-time corrective actions for ship operations.
---
Complete Integration
InfoSHIP PERFORMANCE can work in conjunction with the rest of the InfoSHIP Suite—integrated with Asset, Quality, Electronic LogBooks and Planning modules—or with any other Fleet Management system.
Ask our Expert

Do you have any technical queries on InfoSHIP Performance? Our expert Alessia Ferrari will be glad to answer you.
InfoSHIP Performance strengths



complete & accurate

complete & accurate

turn data into meaningful and accurate information




improve efficiency

improve efficiency

streamline processes and data involved in ship management




agile approach

agile approach

functionalities and modules can be modified based on user needs




real-ime monitoring

real-time monitoring

vessel performance and potential criticalities are under control
Get in touch with us
Mon-Fri 9 a.m.- 6 p.m. (local time)
Explore InfoSHIP® PERFORMANCE
and learn why it's so different!