Digitalisation is not a niche practice but a key strategy to remain competitive and improve operational efficiency. But is it so simple to decide to embark on a Maritime digitalisation journey?
This article is focused on Maritime Digitalisation projects and aims to highlight five common pitfalls that maritime companies must steer clear of at all costs when embarking on digitalisation projects. The fundamental thesis we support is that the success of these projects extends far beyond the technology involved; it is tightly linked to effective collaboration and communication among all parties involved.
But what are the most frequent mistakes a company can make in its digital journey?
1) Lack of a Strategic Vision or Coordination Plan
Digitalisation demands a clear strategy and a well-defined coordination plan. Often, companies dive headfirst into digitalization without a comprehensive overview. This can lead to resource wastage, employee confusion, and ultimately, unsatisfactory outcomes. Maritime companies should first clearly define their long-term goals and then carefully plan how to achieve them through an "holistic organisation-wide roadmap".
2 – Forgetting the 'Why' of the Project
Another common mistake is forgetting the reason for embarking on the digitalization journey. It is crucial for a company to always keep the 'why' in mind, as it serves as a compass for decisions and investments throughout the process. Digitalisation should have a specific purpose, such as enhancing QHSE processes, optimizing ship operations, or reducing environmental impact.
3 – Working in Silos or Lacking Interdepartmental Cooperation
A digitalisation project must be company-wide, therefore it involves collaboration between multiple departments. Working in isolation or without effective cooperation between teams is one of the most serious mistakes. Information and data should flow freely between different areas of the company to achieve optimal results. Communication and collaboration between departments are essential for the success of any digitalization project.
4 - Being Technology-driven Instead of focusing on Goal Achievement
Technology is crucial, but it should never be the primary goal. Solely concentrating on technology can lead to costly and complex choices that may not be necessary or relevant. It is essential for for any company to clearly define the achievable objectives and then select the most suitable technological solutions to reach those goals.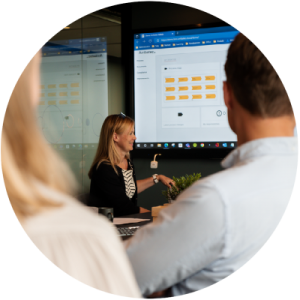 5 - Neglecting the End-Users
Lastly, one of the most significant errors is not heeding the input of end-users of the system. Field operators and operational staff possess invaluable insights that can substantially impact project success. Ignoring their opinions and feedback can lead to ineffective implementations and resistance to change. Actively involving end-users in the digitalisation process and considering their needs is crucial.
The digitalisation of business processes and the decision to embark on such projects is not a matter of financial investment and ROI. It represents a corporate decision that encompasses the entire organizational structure and the underlying 'culture.'
Collaboration, efficient communication, and a well-defined vision are pivotal for the success of any digitalisation initiative, extending beyond mere implementation. By steering clear of the five errors discussed, maritime companies can optimize the advantages of digitalization and position themselves for success in a continually evolving market

We invite you to take part in the event organized together with CSN: the Arribatec Marine Greek Roadshow. We will share best practices and good tips on how to handle a digitalisation project. Join us in Greece!